Updates displayed from newest to oldest. Scroll down for older information on ZUKI.
March 2021 – -ZUKI and mom resighted during routine dolphin population survey
Great news! This month we encountered  dolphin calf (ZUKI) that was disentangled and released two weeks ago today. She was observed traveling and foraging alongside her mother. So happy to see them doing well! #DolphinAwarenessMonth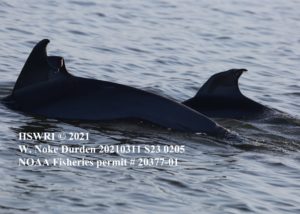 Early 2021 – Second Entanglement Sighted, rescue coordinated
Unfortunately sometime later the calf became entangled again, this time the line caused damage to the tail and pectoral flippers and encircled its body and dorsal fin. Because this is a life-threatening entanglement and unlikely to resolve on its own, a rescue was planned in consultation with NOAA Fisheries Service earlier this year. We are happy to share that ZUKI was evaluated by skilled veterinarians, disentangled and released at that time.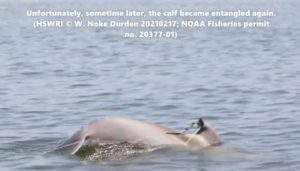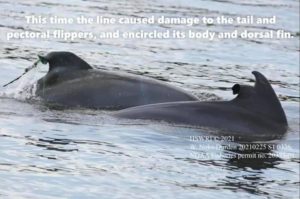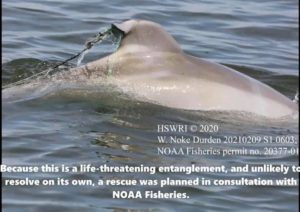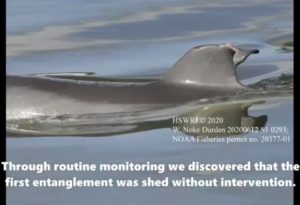 2020 – Entanglement sighted and shed without intervention
As part of Hubbs-SeaWorld Research Institute Wildlife Populations program, our Hubbs MMS team has been monitoring a 1.5 year old dolphin calf nickname ZUKI. The calf became entangled in fishing line multiple times in the last several months. ZUKI's mother has been in our photo ID catalog since 2009 and has a distinct fin due to damage caused by a vessel strike. Through routine monitoring, we discovered that the first entanglement was shed without intervention. However the gear caused the dorsal fin to become disfigured and susceptible to another entanglement.