January 2009 – January 2019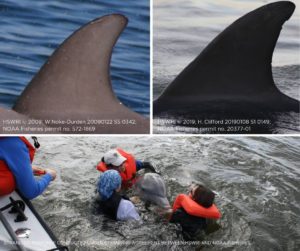 Steve 2009 vs. 2019. Florida East Coast resident dolphin Steve wanted to join the #howharddidaginghityou challenge! He was rescued from entanglement in 2012 by Hubbs researchers Wendy Noke-Durden & Teresa Mazza-Jablonski and named after the FWC Fish and Wildlife Research Institute officer who spotted and cared for him until our team's arrival. Over the years Steve has accumulated some nicks and notches to his fin but is aging gracefully!
We have been responding to dolphins in Florida for about 20 years. Keeping catalogs of fins like this helps our research team identify changes in health and habitat of animals over a period of time.